Instagram Guides
How to Fit the Whole Picture on Instagram Without Cropping
This article shows you how to fit the whole picture on Instagram. If you have a full portrait (9:16) image or video or a landscape (16:9) image or video, you can fit the whole picture in your Instagram post by following this tutorial.
Although it's been a long time since Instagram limited users to just posting square images, Instagram still has a maximum aspect ratio of 4:5 for image and carousel posts. This limit makes it difficult to fit the whole picture on Instagram without cropping if you're posting a very tall vertical image or any horizontal images.
So, how can you make a picture fit on Instagram?
To fit the whole picture on Instagram, you need to manually resize it. Otherwise, Instagram will automatically crop it. Use an image resizing tool, like Kapwing, to add a 4:5 canvas to the background of your photo and center the image. Set the canvas color to black or white so it's less noticeable against Instagram's user interface. Then export and upload to Instagram without cropping.
In this article, I'll walk you through how to make photos fit on Instagram using Kapwing, step by step.
How to Make a Tall Photo Fit on Instagram
Step 1) Open a 4:5 Canvas in Kapwing
Open Kapwing's image resizing tool on your phone or computer. Select the 4:5 preset aspect ratio under "Start with a blank canvas."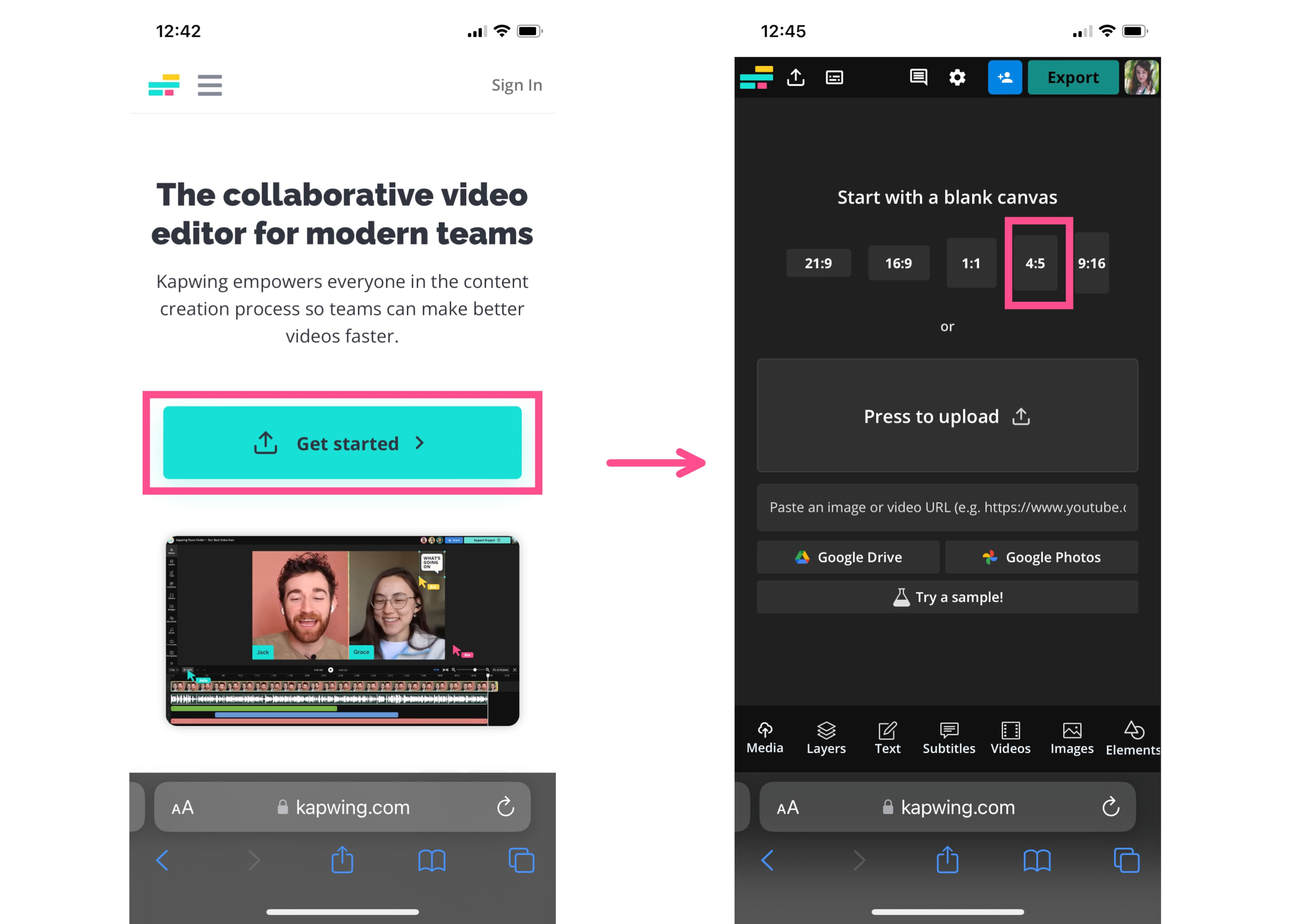 Now that you have a blank canvas that fits Instagram's size limits, you can upload the photo you want to turn into a 4:5 post.
Step 2) Upload the Image You Want to Resize
Tap the Media tab on the menu bar at the bottom of your screen then tap the "Add Media" button.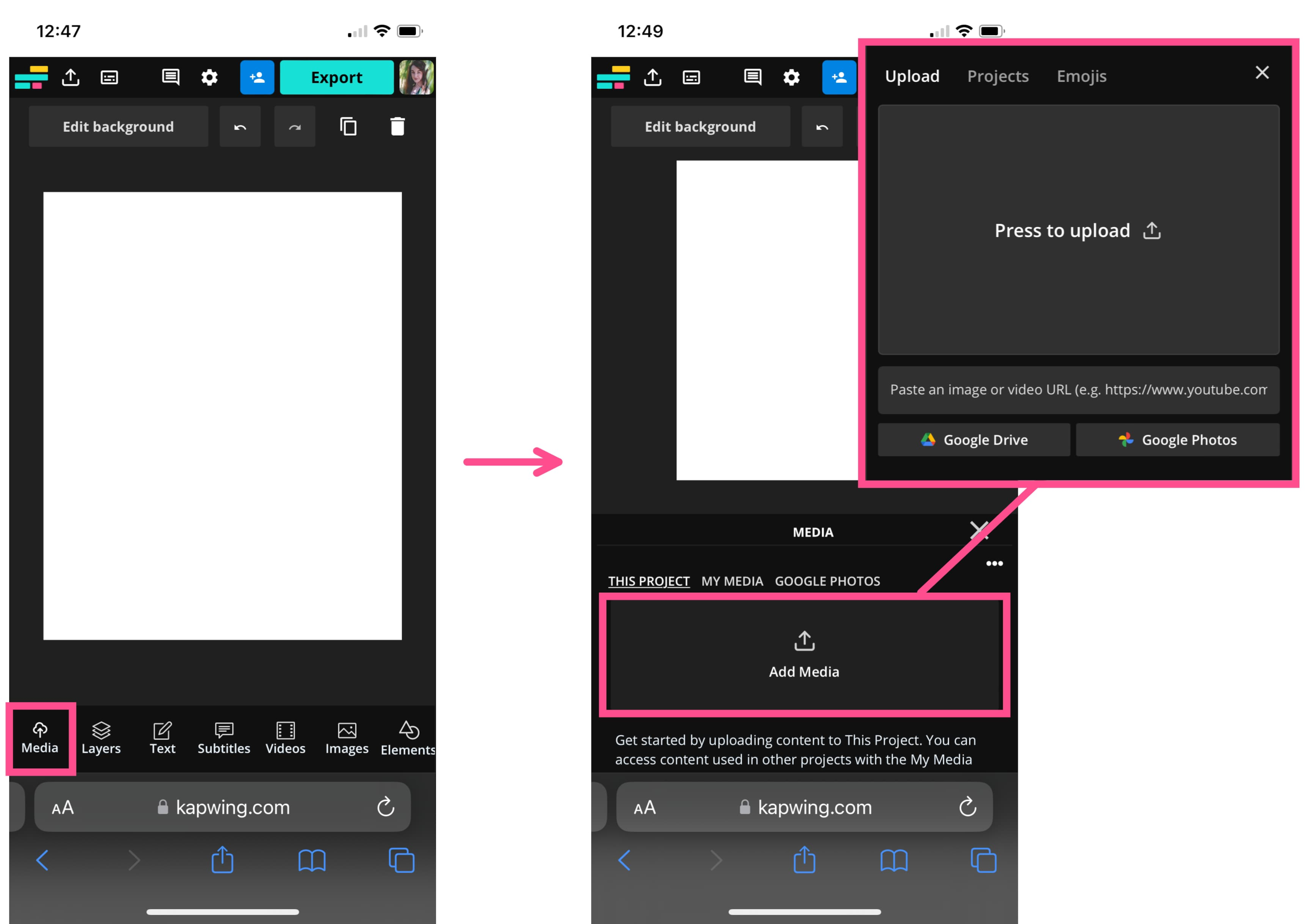 Upload your image from your device or import it from a URL. Kapwing also integrates Google Photos and Drive, if your image is stored on the cloud.
The photo will be added to the Media tab.
Step 3) Center the Photo on the Canvas
Tap the blue plus icon over the image to add it to the canvas.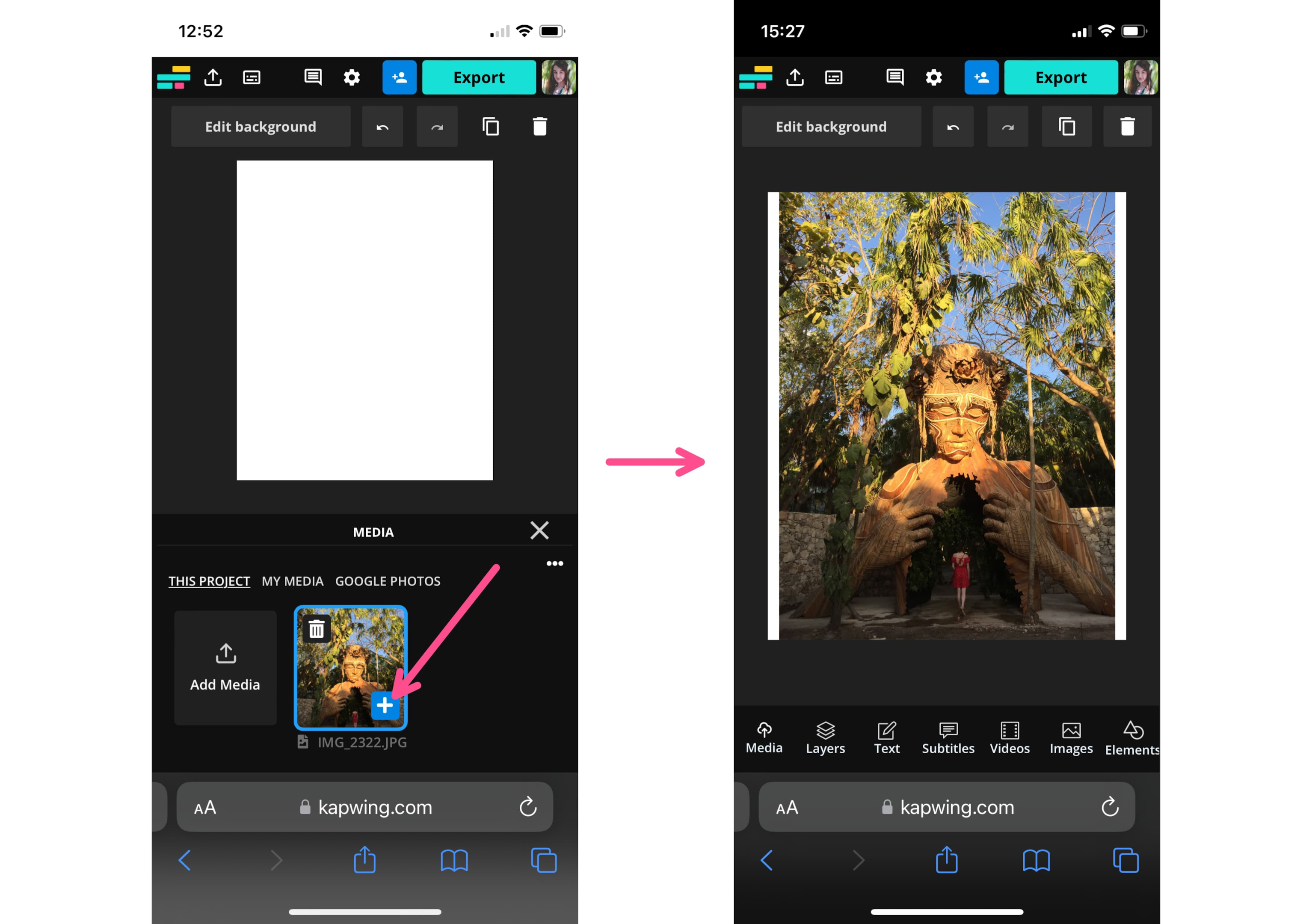 Kapwing will automatically center the photo in the middle of the canvas. This will add a white border to either side of the image.
Step 4) Set the Background Color for the Image
Tap outside the image to select the background. The edit button at the top of the screen should change from "Edit image" to "Edit background." Tap it.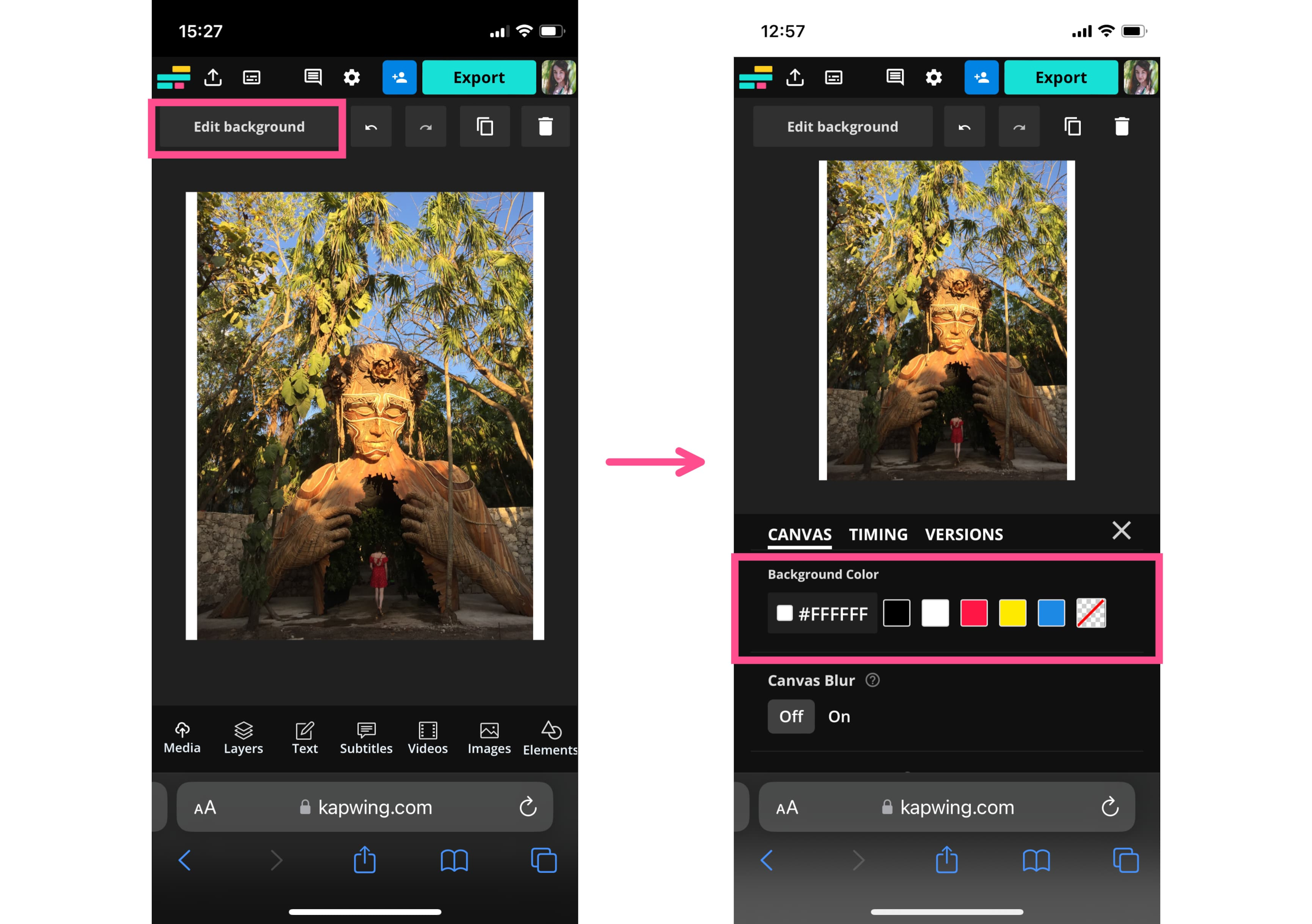 Scroll down until you see the canvas Background Color options.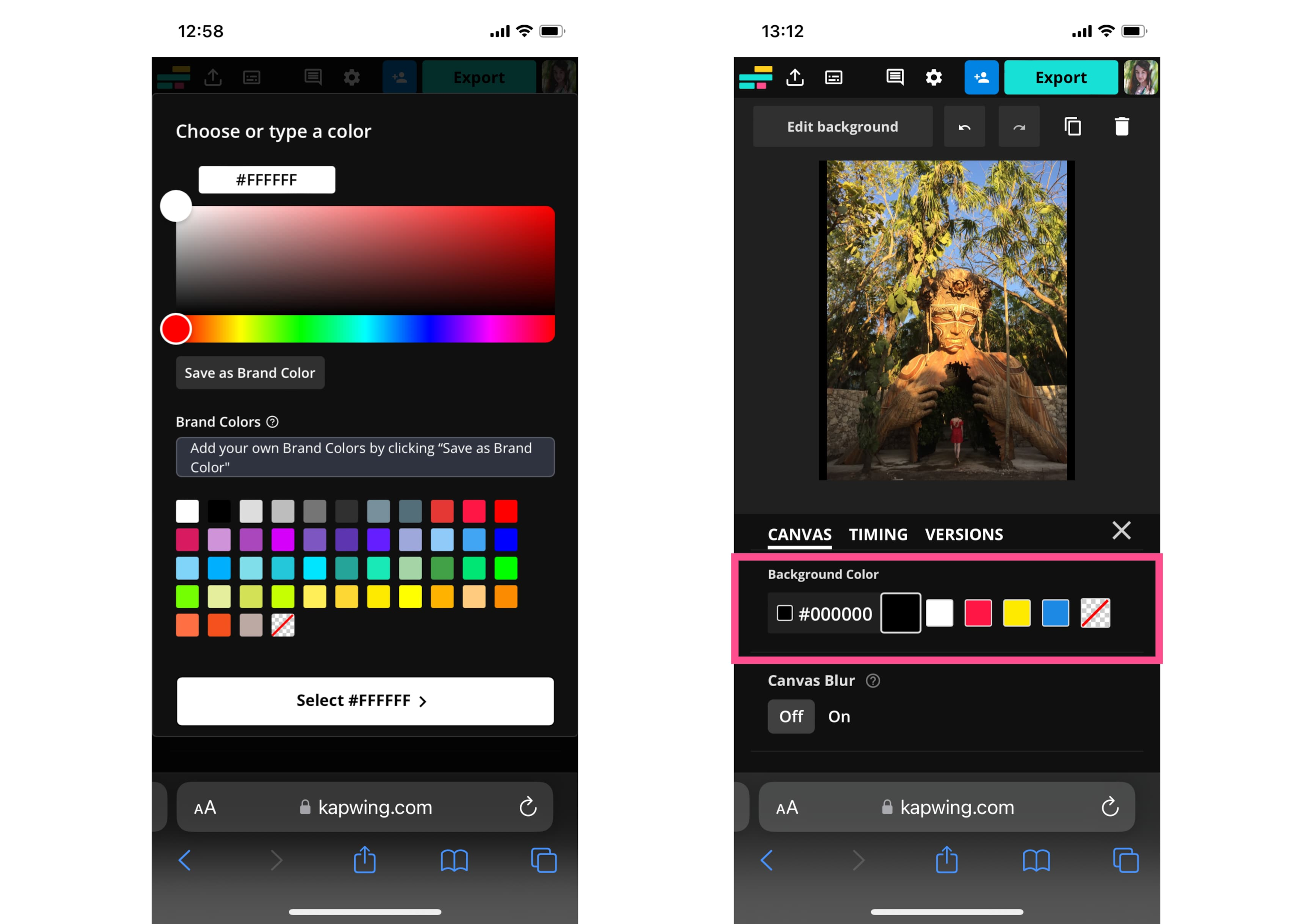 You can choose any background color you want using the custom color picking tools, but if you want your Instagram post to look like it doesn't have a border, set the background to black. More on why in the next section.
Step 5) Download the Picture and Post on Instagram
Tap the export button in the top right corner of your screen and export as a JPEG.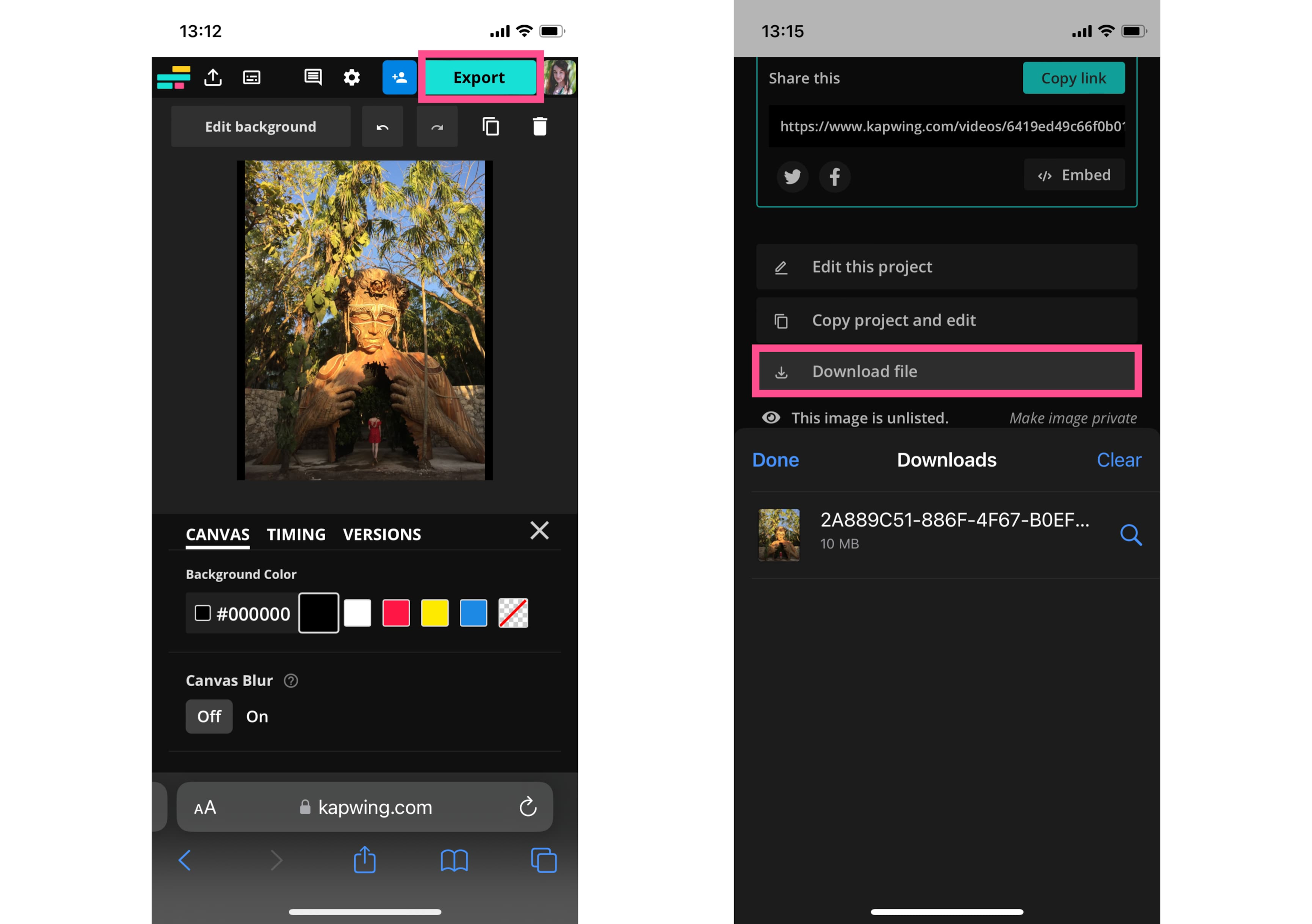 Once the image has been exported, scroll down to the "Download file" button and tap it and save the image to your phone's camera roll.
Open Instagram and publish as normal.
Related: How to Post Multiple Images with Different Sizes to Instagram
How to Fit the Whole Picture on Instagram Without a Border
Resizing an image to fit on Instagram can be frustrating, especially when it adds a background behind the image, which could distract from your photo.
Normally, you could turn the image into a PNG and remove the background, turning those pixels transparent. However, Instagram doesn't currently support transparent background PNGs. It converts PNGs to JPEGs and converts any transparent pixels to black pixels.
You could resize your photo by using a cropping tool to make it fit the entire post size. Or, to make a resized Instagram photo look like it doesn't have a border, adding a black border is actually best. Here's why:
More than 80% of smartphone users have dark mode turned on and Instagram uses your phone's settings by default. That means that most Instagram posts will be viewed in dark mode on a mobile device. Including yours, probably.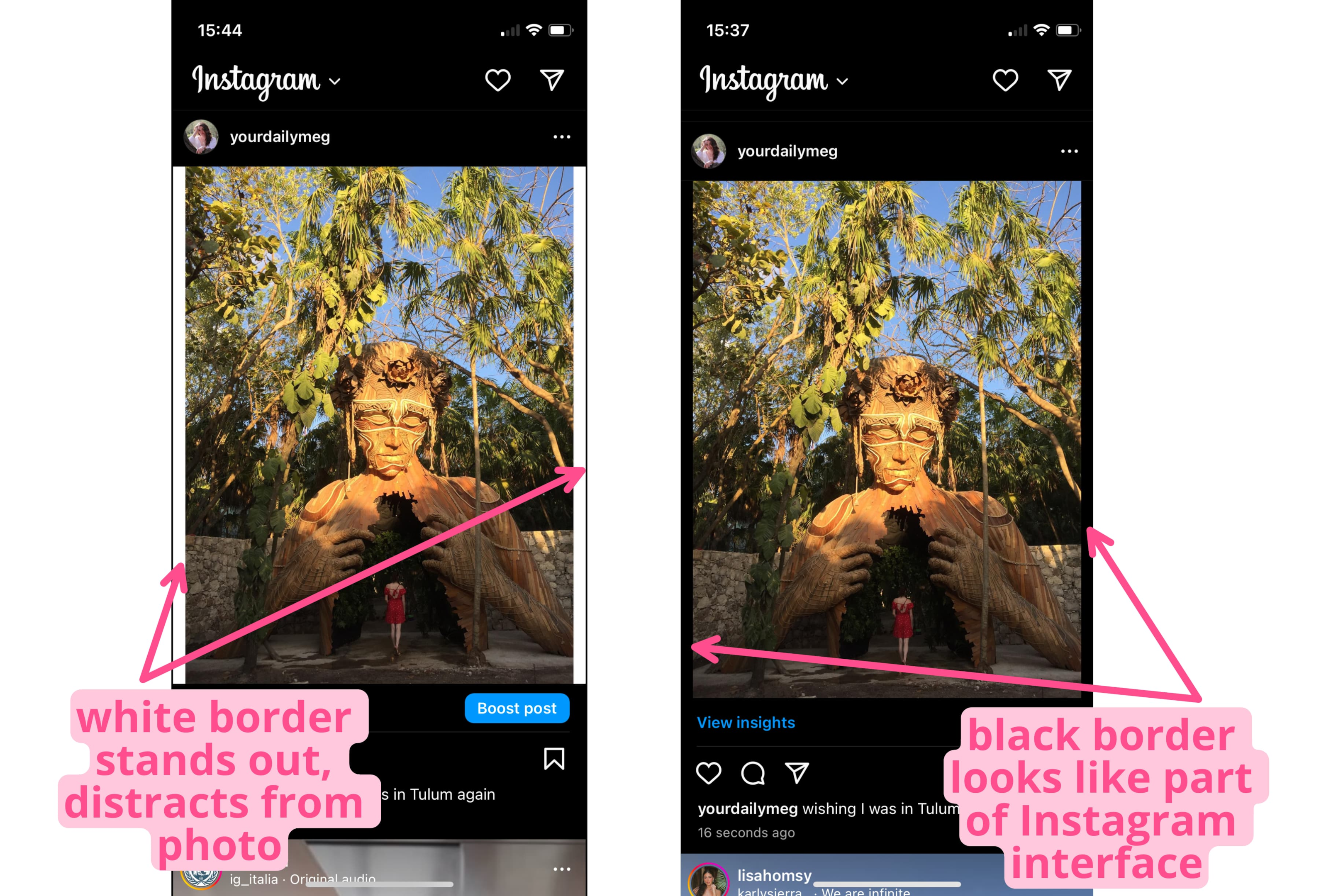 It's an imperfect solution, but until Instagram supports transparent background PNGs, it's the best way to fit the whole picture on Instagram without a super obvious border.
Related: How to Post a Portrait Image or Video to Instagram Without Cropping
Hopefully this article has helped you make your photos fit on Instagram. For more info and tutorials like this, visit our Resources Library or check out our YouTube channel.
And if you still have questions about how to fit the whole picture on Instagram, you can browse the frequently asked questions below.
Frequently Asked Questions
1. Why do my pictures not fit on Instagram?
Instagram imposes a maximum 4:5 aspect ratio limit on all image posts. That means if your image is between 1:1 (a square) or 4:5 (a vertical rectangle that is four pixels wide for every five pixels tall), you can post it. If it's taller or wider than that, like portrait photos or landscape photos, Instagram will automatically resize the image by cropping it to fit those dimensions.
2. How do I stop Instagram from cropping my photos?
If Instagram is cropping your 4:5 images to square, tap the expand arrows in the left corner of the post preview. This will toggle the post size to 4:5. If your image is taller than 4:5, you can resize the photo with a third-party tool like Kapwing. Center your photo on a 4:5 canvas and save.
3. What are the aspect ratio rules for Instagram?
Instagram allows for several different aspect ratios. It has an aspect ratio limit of 4:5 for image posts, but also supports 1:1 images for users who still post square images. Instagram also has a 9:16 video size limit for Reels.
---
Try these popular Instagram resources:
Create content faster with Kapwing's online video editor →